Date
Jan 13 - 29 2023
Expired!
Eddie Vega for DreamWeek 2023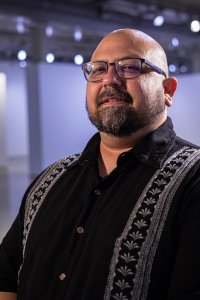 For DreamWeek 2023 the San Antonio River Foundation has collaborated with artist and poet Eduardo Vega. Download your own Eddie Vega artwork for DreamWeek '23 and the 36th annual Martin Luther King, Jr. March and Celebration!
Eddie Vega is a poet, spoken word artist, storyteller, and educator originally from the Rio Grande Valley of South Texas, currently residing in San Antonio. His poetry has been displayed on VIA Buses, downtown San Antonio buildings, and soon to be installed as public artwork along San Pedro Creek. His first full-length collection of poetry, Chicharra Chorus, was published in 2019 (FlowerSong Press) and he is the editor of Asina Is How We Talk, a collection of poetry written en la lengua de la gente. Vega writes about food, Tejano culture, social justice, and the intersections thereof. Known as the Taco-Poet of Texas, he can be found at an open-mic, slam, or taqueria on any evening anywhere throughout South Texas.